Before getting to understand more about a pottery wheel, it's always good to understand the art of pottery. Pottery is a forming process of using clay and pottery wheel to form objects. With advanced technology, the use of clay is being replaced by ceramic material for better quality results.
A pottery wheel, therefore, is a machine that is used to shape clay into a round ceramic product. As a beginner in the field of pottery, it may not be easy for you to choose the right pottery wheel. There are a number of pottery wheels available, including the electric pottery wheel and DIY pottery wheel, and you can also get to buy the best-used pottery wheel.
If you are a beginner potter looking to understand more about pottery, pottery wheels, and where to buy the best pottery wheel, then this is the right article for you!
What is a Pottery Wheel? Where Can I Get a Pottery Wheel?
A pottery wheel is a rotating machine that is used for shaping clay into round ceramic ware. Apart from shaping clay into round objects, the pottery wheel can also be used to trim excess clay from the dried ceramics and for applying extra decoration.
You can understand more about the pottery wheel when you come into contact with handmade ceramics and pottery wheel-made ceramics. The pottery wheel-made ceramics are built come with acceptable quality and come with great decorations that give the best that you deserve.
If you are wondering where to obtain your pottery wheel, worry no more, as VEVOR has it for you. VEVOR is the leading supplier of different machines, among them being pottery wheels. At VEVOR, you are guaranteed access to a wide collection of pottery wheels, including digital pottery wheels. With VEVOR, they work with the aim of supplying their customers with quality pottery wheels that not only serve you for a long time but also give you the best products you deserve. VEVOR allows you to place your order through its online store. You are guaranteed a fast and safe delivery as they have partnered with many logistics services to make sure that they reach your destination as soon as possible.
Types of Wheel Pottery
Even as pottery wheels perform similar functions, they differ from one make to the other according to their working mechanism. Some of the common types of pottery wheels include;
Kick Wheel Pottery – Kick wheel pottery is a type of wheel pottery that is the oldest in the field of pottery. The kick wheel pottery is mainly used to make decorations, but it has been outsmarted by the realization of newer and modern pottery technology.
The kick wheel is operated manually, and you need to kick a heavy flywheel in a counterclockwise or clockwise direction, and using a potter's foot, you can control the speed of the wheel.
Electric Pottery Wheel – an electric pottery wheel uses the same mechanism as that of kick wheel pottery to work, but it is powered by an electric wheel. The motor controls the rotation of the wheel and is recommended for beginners as they are easy to operate and portable.
Manual Foot Pedal Pottery Wheel – this type of wheel pottery works by allowing the potter to use his foot to rotate the second wheel at the bottom of the frame. As he engages the foot pedal, the pottery wheel rotates too. The speed that the potter applies at the pedal determines the speed of the wheel.
8 Tips to Buy the Best Electric Pottery Wheel
The electric pottery wheel has an advantage over the other manual pottery wheels as it is easy to use. Even as you choose an electric pottery wheel, it may not be easy for you to choose the right one for you, more so when you are a beginner potter.
Here are the tips that you can employ;
Initial and Running Cost – an electric pottery wheel requires both the initial buying cost and the running cost. You need to make sure you choose the right electric pottery wheel as per your budget and the workload you intend to expose it to. If you are going to use the wheel pottery commercially, you need to buy a bigger one. The running costs may differ in terms of maintenance costs and electric power costs.
Portability and Mobility – Most porters like stationing their electric wheel pottery in a workshop and consider not moving it. If this is not the case, and you may consider moving your electric pottery wheel from time to time, you may consider choosing a portable one for easy mobility.
Working Mechanism – The electric wheel pottery comes with two working mechanisms; tabletop or free-standing electric pottery wheels. The tabletop pottery wheels come with a flush base with rubber gaskets and slide across the table as you use them. On the other hand, free-standing electric pottery wheels come with three legs designed and positioned directly on the floor. To use them, you need to sit by the wheel with your knees on either side as you throw your pots.
The Configuration of the Wheel head – The wheel head is a rotating piece that is attached to the center of a pottery wheel that allows for the formation of clay during the pottery process. They come in different configurations (variable diameters). If you want to have large pots, you need to choose a wheel head with a large diameter, unlike when you want to throw smaller pots.
Your Available Working Space – Your working space will dictate the size of the electric wheel pottery. If you have a wide area, you can choose a bigger wheel, and if you have limited space, you need to choose a smaller one.
Tool Kit – Different electric pottery wheels come with different tools that facilitate the pottery process. You need to choose the one that comes with the tools that you need at the moment and in the future.
Presence of a Reverse Gear – all the electric pottery wheels have a forward direction gear. Few of them have the reverse gear. The presence of a reverse gear allows you to change the direction of the wheel, giving you better working options.
Speed and Speed Variation – you need to choose an electric wheel pottery that allows you to work at a speed that is comfortable for you. You need to choose the one that allows you to vary the speed at any time you wish and depending on the item you are working on.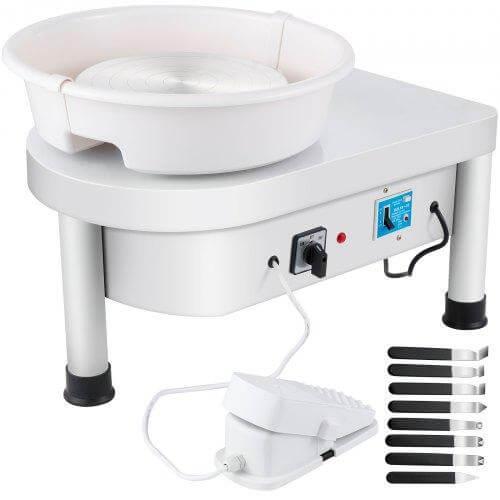 VEVOR Electric Pottery Wheel is one of the best pottery wheels, and here is what I love about VEVOR Electric Pottery Wheel;
Flexibility – VEVOR Electric Pottery Wheel is highly flexible and allows you to switch its working direction clockwise or anticlockwise. It comes with a foot pedal that allows you to work on it hands-free.
Superior Build Quality – VEVOR Electric Pottery Wheel comes with a small footprint that gives it a compact structure. It comes with an ABS detachable basin that is not only long-lasting but also easy to clean.
Versatility – VEVOR Electric Pottery Wheel is highly versatile and allows for wide application. It allows you to perform shaping and throwing processes under one unit. This pottery wheel is flexible enough to allow you to use it for school teaching, home use, and even in the pottery bar.
Gorgeous and Practical Design – VEVOR Electric Pottery Wheel is designed to give a fancy appearance. It is designed with a wide working area with a large plate of 25cm diameter that gives you sufficient working space. Its spray treatment body and compact structure, together with a humanized structure, provide an enjoyable mood as you use your VEVOR Electric Pottery Wheel.
How Much is a Pottery Wheel?
It may be hard to tell how much a pottery wheel is unless you mention the type and size of the pottery wheel you are looking for. Depending on what you are looking for in a pottery wheel or what you want to use your pottery wheel for, you can get one as low as $39.99. For instance, you can obtain VEVOR Electric Pottery Wheel at $154.99.
You could get the price of one pottery wheel varying from one another depending on the shop you are buying it from and your location too.
Is the VEVOR a Good Pottery Wheel for Beginners?
Yes! A beginner porter always looks for something that is not complicated to use, of good quality, and a piece that facilitates the task needed, and this is what VEVOR wheel pottery gives you. You don't need to visit VEVOR physically if you are far away; you only need to place an order through their website and receive your wheel pottery at your doorstep. This is possible as they have partnered with logistics providers to give you fast, convenient, and secure delivery at all times.
You can always count on VEVOR!