Carrying extra fuel is not a problem anymore… Are you worried about filling and transporting heavy cans? Now, saving up time and money is not difficult after buying a fuel caddy and getting rid of your worries.
Depending on your consumption level, take a VEVOR fuel caddy for the whole week's fuel without coming to the station. With this 35-gallon high-volume fuel caddy, you can carry fuel directly to the point of use without struggling. It's no longer a painstaking task when you have a VEVOR fuel caddy. Here you go, why VEVOR should be your priority when buying a fuel cart.
Unboxing the VEVOR Fuel Caddy
Upon making a purchase, you'll get a:
● 1 High Quality Fuel Caddy
● Hose
● Big Tires
● Small Tires
● Two Ways Rotatory Pumps
As this product comes with the instruction guide, assemble all the things by following the instructions.
VEVOR Fuel Caddy Reviews
Upon seeing with an endoscope, you'll not be able to see the smallest particle of dust or rust at the bottom of the tank. Installing is not complicated. People from marine, farms, lawns, and auto repair recommend this product as their first choice. It prevents static discharges and eliminates static electricity.
VEVOR caddy fuel comes in different colors in accordance with your fuel needs, like kerosene, gasoline, and diesel. You'll not find any leakage upon transporting this product. Built-in two rotatory pumps allow the dispensing and siphoning of your fuel. At a glance, you can quickly determine your fuel level through a fill gauge. So, no risk of overflows will be faced. With heavy-duty 8 and 2-wheeled terrains, you can easily transport your portable gas caddy. A handy tube holder and filler neck with a gas cap are already equipped for this caddy.
If you ever face speed issues with fuel flowing, a 9.8 ft hose with a nozzle ensures maximum flow. Many people seem to face spilling or fuel wasting, but it's not an issue through wider diameter necks. Furthermore, hose hangers provide easy hose storage.
Specifications
Material:

201 Stainless Steel

Tank Size

: 106 x 53 x 53 cm

Big Tire Diameter

: 20.3 cm

Small Tire Diameter

: 5.1 cm

Fuel

: Kerosene, Diesel, Gasoline

Pump:

Two-way rotatory Pump
Pros
● Made with durable stainless steel
● Long Pipe
● A rotatory pump offers cranking and reversing directions
● Capable to handle Weather Condition
Testing the VEVOR Fuel Caddy
Now fill up the fuel paddy to see how it works:
Step 1: Get a jerry can and transport fuel through it to add fuel to a smaller container.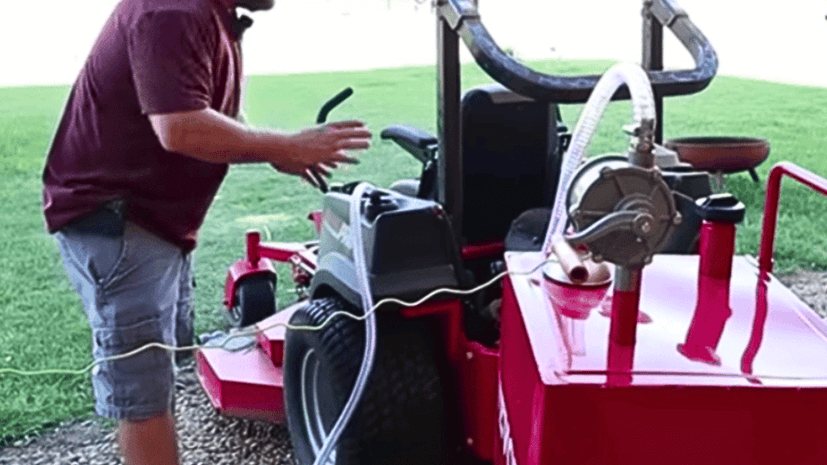 Step 2: The pipe will work perfectly when you put it into a vehicle.
Step 3: To make sure instant fuel comes out, rotate the two-way rotatory handle. Effortlessly, you can rotate the rotatory handle.
Step 4: Once you do the above step, you'll notice how smoothly the fastest speed and greater fuel flow through the pipe.
Step 5: After filling up the tank, keep rotating the handles; you'll see how amazingly this hose will pull back your fuel to the tank.
Note: Ground clamps go between the mower and storage tank. There's a spark danger when you pump fuel. Earth ground won't stop this spark.
Is the VEVOR Fuel Caddy Worth It?
Using plastic can make your life hell, as this is what you're practicing to damage your car through flying fuel that splits into your truck and breaks off the nozzles. What an embarrassment to see fuel split everywhere in the parking lot. With just a few bucks, you'll get an outstanding product. Then why choose a cheap and low-standard one? This amazing " small gas station" can store 5 to 6 gallons of fuel, and during a power outage, you can use a hand crank pump.
You can store enough fuel or gas for future use by offering high-quality, easy-to-use features. If you need a gas reserve for your house, don't hesitate to order this online.
FAQs About VEVOR Fuel Caddy
1- How long does fuel last in a Fuel Caddy?
Diesel can last up to a year before it starts degrading, while regular gasoline has three to six months of shelf life.
2- What is the best way to fill a fuel caddy?
Putting the fuel pump nozzle into an empty gas container is safest. Avoid placing it on elevated surfaces like carpeted floors or truck beds. Static electricity should be dissipated by placing filler nozzles close to the opening.
3- What's the maximum capacity of a fuel?
You should store fuel in 25 or 2.5 liters of jerry cans for domestic use.
4- How does a gas caddy work?
Portable poly fuel caddies store and transfer fuel safely, effectively, and affordably. Red models are available for gasoline (15 and 25 gallons), and yellow models are available for diesel (25 gallons).
Conclusion
You won't notice any leaks or damage after using the pumps for a long time. It'll still work great after denting your fuel caddy and using it carelessly for several months. High-quality materials make sure it'll keep working. With this pump, you can fill gas tanks faster without getting sweaty. Get order this product and get a 5% discount.