There are wide reasons why you need to invest in the best VEVOR electric winch, from off-roading to pulling large items. However, selecting the best winch is not a cakewalk because of the multiple options available in the market. Along with figuring out which off-road winches suit your vehicle without significant modifications, you must decide which product provides you with capacity. In most cases, its pull rating is measured in pounds. It all depends on the type of cable and rope you prefer.
You can even pull a standard vehicle from a mud hole using a powerful vehicle and decent winch, such as the VEVOR 13,000 lb electric winch. This honest VEVOR 13,000 winch review guide will help buyers understand what they need and how the VEVOR electric winch can be a life-turning gadget for you. From unboxing to testing it, you'll get all the instructions.
Unboxing the VEVOR 13,000 lbs Electric Winch
Here is what you'll get after buying a VEVOR 13,000 Lbs Electric Winch:
● 3/8 Grab Hook
● Control Box
● Aluminum Fairlead
● Remote Control
● 1.8m Power Cable
● A Set of Bolts
● Gloves
● Brackets
VEVOR Winch Reviews: Features and Specifications
Such a cutting-edge motor design with 3-stage planetary gears provides exceptional performance on the motor. This 12V DC motor provides high horsepower, ensuring that off-road vehicle rescues are secure and timely when using this power supply. It features an IP67 waterproof design that can handle harsh weather and complex conditions like rainstorms, snow, etc. This helps you pick up a tractor you need these winches. A 13-thousand-pound wrench works great and pulls 6 ½ tons.
You can use this VEVOR electric winch with different types of vehicles, including SUVs, ATVs from medium to large, and trucks. Do you know it's effective for yachts also if the pull force is high enough?
Under the rated force, this VEVOR electric winch is equipped with 12 strands of high-strength nylon cable to perform all kinds of tasks, including ground and underwater pulling. For safety alerts, the last five rolls of cables are marked. You can control the winch with the wireless handle with a range of 66ft; during the operation, it ensures the operator stays safe and makes things easy.
Specifications:
● IP Grade: IP67
● Gear Ratio: 172.8
● Dimension: 546.5 x 155 x 205 mm
● Traction: 13,000 Lbs
● Control Mode: 2 in 1 controller
● Power Cord Length: 1.8 m
● Weight: 25.5 Kg
Features:
● Can Easily be Placed On Vehicles
● Easy to Assembled
● Ground and Power Cables Have Perfect Length
● Don't Get Hot Easily
Why Choose VEVOR Winch
With this winch, you can lift up sturdy vehicles to anything. It works remotely, so you don't need to work physically; just sit and use the remote to do its job. VEVOR winch 13,000 lbs is just like a beast and can easily fit into your tractor. You can pull anything heavy with that winch, and it comes with a remote control. Also, there are multiple options from which you choose your favorite VEVOR electric winch size according to your needs.
With an unbreakable, sturdy rope, it'll put the car out of the ditch. If you live in an area with unpredictable weather, this VEVOR electric winch will be helpful.
Installing and Testing the VEVOR Winch
This VEVOR truck winch reviews guide is based on customers' preferences. Let's see how this VEVOR electric wincher works.
Step 1: You can see this VEVOR electric winch has four points; you'll need to drill four holes, same as these points, to fix this winch in your cab. Or you can cut the rectangular size area in a bedliner so no metal will be exposed, and there'll be no gap between a truck bed liner and a winch.
Step 2: Go underneath the truck and see whether there are obstructions or not.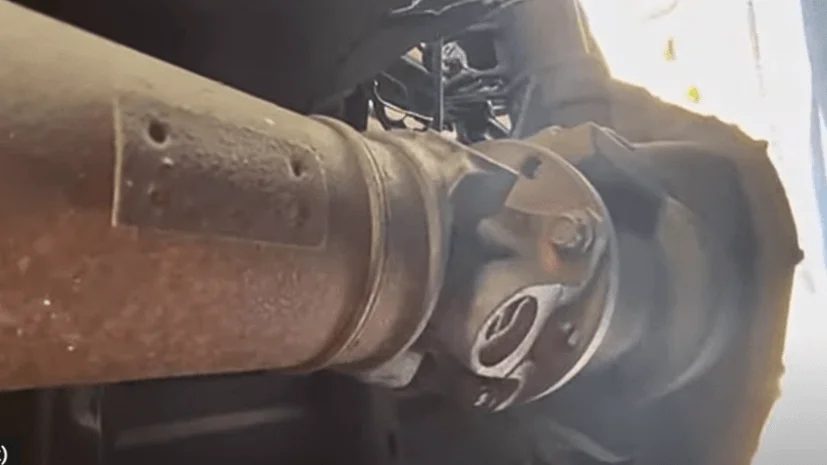 Step 3: Now take a hardboard, cut it out and drill the holes in it. You need to drill four holes, just like the four winch points. Use a black pen to mark the four points.
Place the winch above the hardboard, so make a hole as a template.
Step 4: Using your template, make a hole into your cab. Putting a hardboard on the cab and making four holes exactly on those four points. So it'll not hit anything underneath your cab.
After drilling the holes, fix your VEVOR electric winch into the cab; use bolts to fix it. You need to cut out the cab in a rectangular shape where you'll fix the VEVOR winch. You must cut out a liner because it won't stick the wire between the cab and a winch.
Before Installing the VEVOR electric winch, use the black coated spray at that point. If you follow this way, you'll not crumble on this bed, and the winch will fix tightly due to it.
Tip: As seen in the image, you'll make a hole using a lip beam and cab sheet. In this way, you can install your camera down there.
Testing of The VEVOR Electric Wrench
Now install all the wires to the winch and your alligator clip, attach them to the battery, and see how it works:
Step 1: Take out a hook, attach it to a rope, and connect a shackle to a hook.
Step 2: Pull out a rope and turn the power on of the winch.
Step 3: Now hold and push the rope to your side, and with the help of the remote control, start it. You can see it's so powerful that the rope is not broken or stuck.
This is a powerful winch that pulls you to itself.
FAQs about VEVOR Winch
1. Which winch size is best?
You will need a stronger winch if your vehicle is heavier. It is recommended that your winch can pull at least 1.5 times the vehicle's weight. You can calculate your winch capacity by multiplying the gross vehicle weight by multiplying it by 1.5. A winch capacity of 1.5 is the minimum rating, but some factors can make it exceed this rating.
2. How does a winch work?
Winching power increases as the distance of the pull is increased. Ensure you maintain as much distance between the winch vehicle and the object you are hooking on to increase your winching power. This means that as you unwind more lines, the more pulling power your winch will be able to provide you with.
3. What should you look for when buying a winch?
You should look for capacity, weight, line speed, controllers, and cables, but if we compared the VEVOR winch to 13,000 lbs, it can lead to any winch and give. Remarkable results.
4. When it comes to winch ropes or cables, which is better?
If, however, a rope breaks, it is much lower in damage to nearby things (including people) when the kinetic energy of the rope is released compared to the kinetic energy of a steel cable. So, nylon rope is more reliable.
Conclusion
With its 12-strand nylon cable, you can easily work underwater and on the ground; this VEVOR electric winch cable's last 5 marks protect you from any injury by alerting you. With this VEVOR 13,000 winch review guide, you don't have to break the bank on the cheap market winch.
You can get this VEVOR winch at such reasonable rates, but if you use the discounted code, then you'll save even more. It's a good deal, so don't wait.