You are out on the drive. You're having a smooth and relaxing ride on your ATV or UTV. Then suddenly, by complete accident, you and your ride end up in a ditch in the road! You're fine, but you need to get your ATV out, which will obviously not be easy. What you need in this situation is essential: a winch rope.
A winch rope is a type of rope or cable specifically meant to be used with a winch, a device you use to pull in, let go of, or adjust the tension of a rope. A winch rope is very similar to a wire cable, but we will explore its advantages and benefits. Together, a winch rope bears in mind the image of a pulley that can pull back on large objects you could not pull by yourself.
Why You Should Buy a Winch Rope for ATV/UTV
A winch rope has an undeniable benefit in that it can help you in the situation we described. If you ever need a medium to help you pull or let out a huge and heavy object that you couldn't move on your own, then you would benefit from having a winch rope.
As we've stated, a winch rope is similar to a wire cable. However, winch ropes generally have an advantage over wire cables regarding how much they can carry, how convenient they are to use, and how safe they are. For example, winch ropes will not start to harm your hands like the fraying wires of a wire cable would, and a winch rope is much easier to bundle and put away. Finally, winch ropes are less likely to harm even if they break, as they do not store as much energy as wire cables.
In every sense, a winch rope is an ideal tool for moving around heavy objects like your ATV and UTV. Thankfully for you, we have compiled a list of some of the best winch ropes and winch rope kits for you.
List of Top 5 Winch Ropes for ATV/UTV
1.
VEVOR Synthetic Winch Line
When we begin with our top 5 items, we always start with the best, and that's VEVOR.
VEVOR's Synthetic Winch Line defines what all winch lines should be. With an impressive breaking strength of 12,000 pounds and a 100 feet / 30-meter rope, VEVOR's winch rope is one of the finest winch ropes available on the market.
The VEVOR Synthetic Winch Line is durable and lightweight, weighing only 4.4 pounds. It is easy to repair and more flexible than the average winch rope. The sleeve designs on both ends of the rope protect it and yourself from damage while in operation, including corrosion, overheating, and sun exposure. Finally, the winch rope is straightforward to install and attach to your ATV without the risk of injury or the rope breaking.
There is nothing VEVOR can't do, and it can do all of it well. You can pull your ATV from any mess, whether desert, muddy land, or snow. It is an excellent first choice—however, we are far from finished!
● Material: UHMWPE
● Breaking Strength: 12,000 lbs.
● Thickness: 5/16 inches (or 0.79 cm)
● Length: 100 feet or 30.48 m
2.
X-BULL Synthetic Winch Rope Cable Kit
This top choice not only comes with an excellent winch rope, but it's a whole kit made to make owning a winch rope more comfortable—and fun!
The X-BULL Synthetic Winch Rope Cable Kit is, as the brand name implies, an absolute powerhouse with the pull and breaking strength of a bull.
● The first thing to note is that this winch rope is uniquely braided by X-BULL. With 12 strands of Ultra High Molecular Weight Polyethylene Synthetic Fiber, the winch rope has an astounding tensile strength of 32,000 lbs., which belies the fact that the rope itself weights a whopping 1/3 of steel cable and will never rust.
● In addition to the sheer power on display by this winch rope, the cable kit additionally comes with:
o A forged winch hook, whose strength is even more powerful than the rope itself at 36,000 lbs;
o A 5-foot sliding protective sleeve to keep the rope from tearing with use;
o And, as an added bonus, you get an X-BULL car sticker you can put on your vehicle with pride!
While not as well-rounded or cheap as VEVOR, if you want to pull anything out of any ditch with enthusiasm, the X-BULL Synthetic Winch Rope Cable Kit is for you!
● Material: UHMWPE
● Breaking Strength: 32,000 lbs.
● Thickness: 1/2 inch
● Length: 85 feet
3.
OKBA Synthetic Winch Rope Cable Kit
Just because a product is simple doesn't mean it's bad. The OKBA Synthetic Winch Rope is the perfect winch rope for those on a budget, supplemented by its ease of use.
OKBA is the weakest winch rope on this list, with a length of only 50 feet and a breaking strength under 10,000 lbs. The winch rope is one of the best, made with synthetic, waterproof, and scratchproof material. But what it lacks in strength, it makes up for in versatility, having a universal fitment capable of being used on any vehicle, including ATVs, UVs, SUVs, motorcycles, and jeeps.
The OKBA Synthetic Winch Rope is the perfect budget option for those who want to pull their vehicle out of any jam at a moment's notice.
● Material: UHMWPE
● Breaking Strength: 9,500 lbs.
● Thickness: 1/4 inch
● Length: 50 feet
4.
Kolvoii Synthetic Winch Rope
If you are looking for another simple but sturdy winch rope to buy, then Kolvoii has you covered.
The Kolvoii Synthetic Winch Rope exceeds in its thickness of 1/4 inch and its length of 50 feet, on top of being designed with several different materials, including Polyethylene, alloy steel, metal, and rubber. This durable and versatile item comes at an affordable price, making Kolvoii worthy of buying on its strength alone, despite its lack of features.
● Material: Polyethylene, Alloy Steel, Metal, Rubber
● Breaking Strength: 8,500 lbs.
● Thickness: 1/4 inch
● Length: 50 feet
5.
BUNKER INDUST Synthetic Winch Rope
Last on our list is something that you should look into if you are concerned with the longevity and safety of the winch rope itself.
BUNKER INDUST's Synthetic Winch Rope is another strong and lengthy rope for those who need to pick up some seriously heavy steel vehicles. It boasts the kind of quality and strength that you would want out of your winch rope, along with a notably long lifespan. And we aren't just talking about the tough, stainless steel material of the rope, but its special removable sleeve protection that protects both you and the rope from wear and tear.
There is also BUNKER INDUST's "second life," the synthetic protective jacket, which gives the winch rope an impressive 20% increase in its breaking strength—mind you that BUNKER INDUST can pull up 26,000 pounds or double most of the ropes on this list!
With its wide application and incredible sturdiness, BUNKER INDUST is reliable and, frankly, good to look at too!
● Material: Stainless Steel
● Breaking Strength: 26,000 lbs.
● Thickness: 3/8 inches
● Length: 85 feet
Different Types of Winch Rope for ATV/UTV
Winch ropes are differentiated by the types of fibers:
Dyneema and Spectra
Dyneema is the most common winch rope fiber. Dyneema has different types of lines, such as Basic, Superline, and Superline XD. Superline XD is the strongest winch rope fiber of them all.
Spectra is in the same class as Dyneema, but noticeably not as strong or durable.
Vectran and Technora
Vectran and Technora winch lines are remarkably similar, both being heat resistant but easier to break by bending. These fibers are good for standard winching, but not for off-road winching, as they involve repeated bends.
What Should You Look for When Buying a Winch Rope for ATV/UTV
Generally, winch ropes all share the same function and can be relied on for doing the lifting work you desire—however, more weight to carry means needing more heavy-duty and studier stuff.
The first thing you should definitely consider is just how much the winch rope can carry and what its maximum weight is before either the rope snaps or the winch breaks. The average weight for a winch rope is enough for most work, but those with the money can benefit from the strongest winch ropes. There is nothing to come out of broken machines, after all.
The second aspect of a winch rope you should consider is its length. For leverage and moving something from place to place, you need a long enough rope to give you the space to do so. Winch ropes can measure over 100 feet, but 50 or 85 feet can also be suitable for most situations.
Finally, you should consider the material of the winch rope. Steel winch ropes are some of the sturdiest and heavy-duty cables, so they should last quite a while.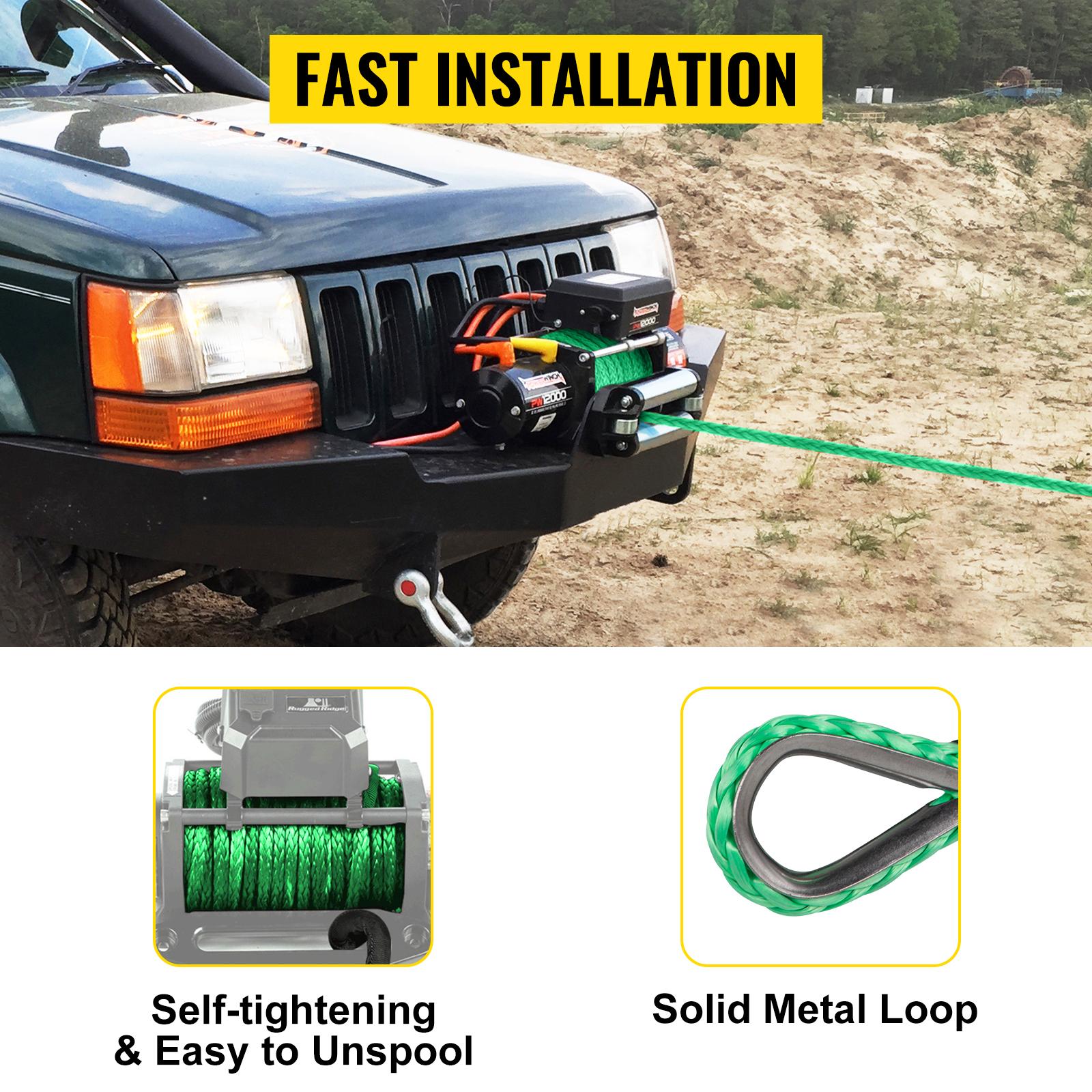 Are Winch Ropes for ATV/UTV Worth It?
With a winch rope, all your lifting-and-moving-related problems are over! No longer will you have to deal with a vehicle trapped in a ditch or be unable to move an object you need to move at a moment's notice! We can say with confidence that a winch rope for your ATV or UTV is absolutely worth it.
FAQ about Winch Rope for ATV/UTV
1.
Can winch ropes be used for objects other than an ATV or UTV?
Yes! As long as you can attach it to an object, it can work. However, not every object has the integrity to stand a harsh tug.
2.
What maintenance is required for winch ropes?
Lubricating the grease points and checking out the bolts and cable are enough for a healthy winch rope.