What is a Golf Cart Rear Seat?
A golf cart rear seat is a replacement kit that you can use to customize your golf carts. These are rear-facing seats that you can attach as replacements for your golf bag holder. They don't only add more room for passengers, but they are also simple to install.
Why Should You Buy a Golf Cart Rear Seat?
If you want more seating room for your golf cart, then you should consider getting one. Why? Well, they're convenient, especially when you play golf with a huge group. With an additional rear seat, you don't have to go back and forth in one route just to get your group from one place to the next. Plus, they can still be used as storage for your golf bags. It's hitting two birds with one stone!
List of Top 5 Golf Cart Rear Seat
Now that we've covered that up, here are the top 5 best golf cart rear seats that you can check out:
1. VEVOR Golf Cart Rear Seat
This amazing golf cart kit is compatible with the Yamaha G series (G14, 16, 19, and 22 gas) and is also suited for electric models. What's great about this Golf Cart Rear Seat is that it's not only designed so seamlessly, but its sleek design is also durable, with anti-UV glossy dark frames that can withstand extreme weather and fading, making it specifically built for heavy-duty usage. In addition, the materials used for the cushions are high-quality and upholstered. It also comes with quality leather and pearl cotton for added comfort. Apart from these, VEVOR has also an option for a cargo bed by simply folding down the seat. The 360-degree bed rail assures you that all of your stuff is kept in place, and it can even carry up to 1102 lbs or 500 kg of weight without being compromised.
Pros
· Comes with anti-UV frames
· Fold-down cargo feature
· Huge weight capacity
· Made from premium materials for durability
Cons
· Fitting the seat to the cart can be hard
· The instruction manual is not too detailed
2. MODZ FLIP4 Club Car DS Golf Cart Rear Seat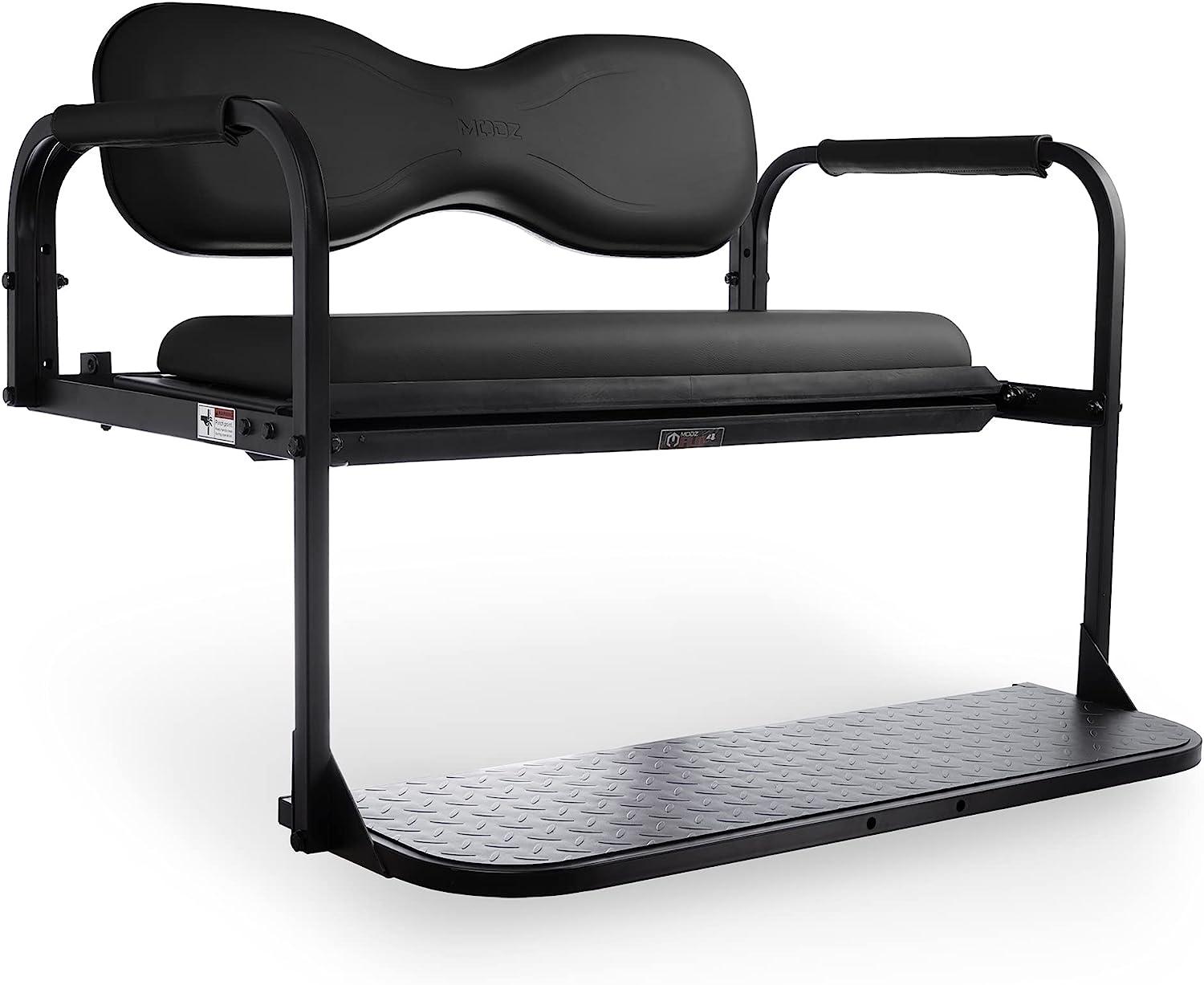 For those who have a Club Car DS, then this is your best bet. Like the VEVOR kit, this one comes with a sleek design that is at par with how elegant VEVOR's cushions and frames are. What's amazing though is that it comes with OEM color options that match your contoured seating cushions and armrest covers. And just like VEVOR's kit, this comes with a fold-down cargo bed as well. It's made from a polyethylene diamond-textured surface though, making it extra durable while ensuring the safety and comfort of your passengers. MODZ also has other added features like an integrated seat belt, a backseat cap that's thermo-molded, a footrest for added comfort, and a protective powder coating to the frames for extra stability.
Pros
· Simple installation process
· Has marine-grade vinyl material
· Comes with OEM colors
Cons
· There is no black-colored cushion option
· The instruction manual and video is not detailed
3. Performance PLUS Club Golf Cart Rear Seat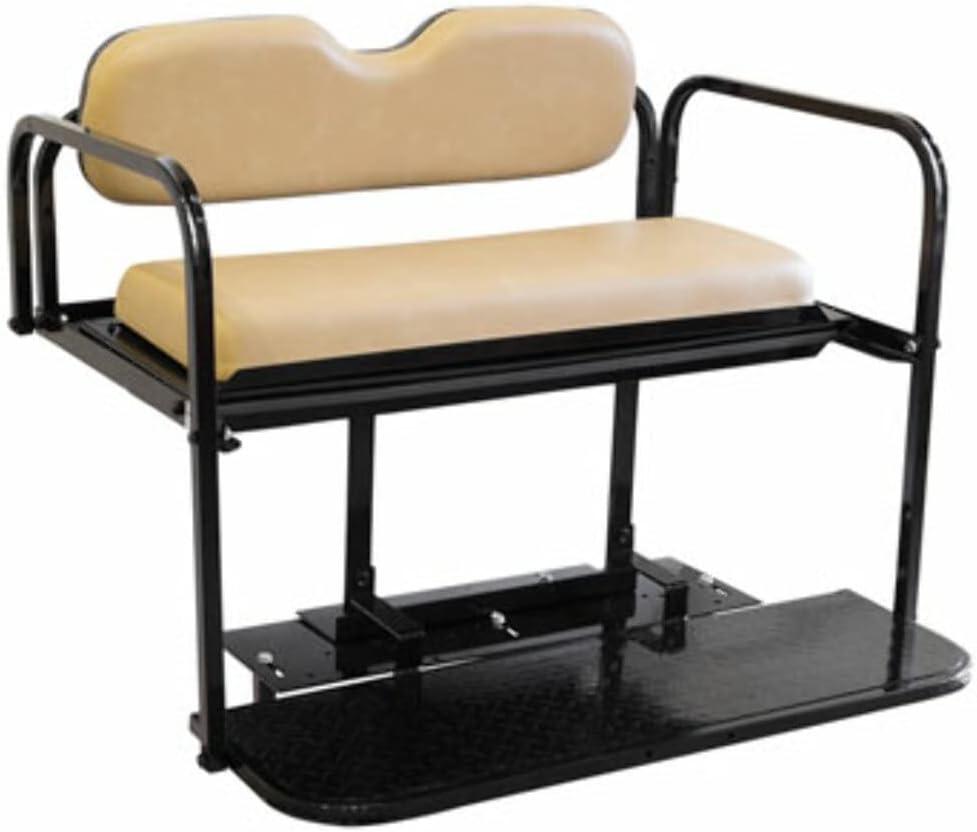 This rear seat kit is perfect for Yamaha G29 carts. It comes in a stone gray color that exudes elegance, which can easily make your cart stand out. When folded, there's a large deck area for your storage, so you can easily transport not only passengers to your destination but golf items too. 42 inches wide and 32 inches deep, you can do a lot with this storage deck. On top of this, the materials used are long-lasting. The seats are from a high-grade marine compound that makes them resistant to the harsh elements outside and even mold. The frames aren't forgotten as well since they are covered in this heavy-duty powder coat.
Pros
· Comes with ready-to-install hardware
· Powder finish on the frames for heavy-duty work
· Has matching OEM colors
Cons
· Frames are not UV resistant
· Some parts and bolts are hard to install
4. GTW DS Rear Flip Seat Yamaha Cart
Another seat kit that's compatible with Yamaha is the GTW Rear flip seat. It's similar to VEVOR's quality finish in the sense that it gives off that glamorous look. Plus, this flat satin coating has a UV additive to make it not only durable but also resistant to fading. It also comes with a diamond plate on its surface just like a lot of cart seats, but it's made from this molded polyethylene material that's not only topnotch but also makes the finish look glossy and nice. What's convenient about this set though is that it only needs a one-size wrench (10mm), so installation is not such a hassle. Lastly, it comes with a detailed instruction manual that's colored, so it's simpler to follow.
Pros
· Resistant to fading and rusting
· Convenient one-size wrench installation process
· Heavy-duty cargo bed
Cons
· Hardware parts can be misplaced in storage boxes
· Bolts can be tricky to line up and install
5. EZGO TXT Golf Cart Seat Kit
The last one on our list is a cart seat from EZGO TXT. This is compatible with EZGO TXT for 1995-2013 models. It comes with a 3.5-inch black cushion that's super comfy because of its thickness, and because it's marine-grade and made from vinyl, it's durable as well. Plus, because it has a heavy-duty cargo deck that you can flip, you'll have more storage when you don't need extra seating. And to add more to its benefits, it comes with free grab bars too. So, this does not only make you feel safe and secure, but you can save lots as well.
Pros
· The cargo deck is made from durable polished diamond plate
· It comes with free parts – safety handlebars for safety
· Thick black cushion
Cons
· Some holes for the bolts can be hard to line up
· The seam can pull apart when manhandled hard
Different Types of Golf Cart Rear Seats
Now that you know the top 5 golf cart seats that you can buy, take note that these kits come in different types. Apart from each kit or brand being only compatible with certain golf carts, other factors make them different from each other.
First, there are your standard golf cart rear upgrades that you can purchase online. Depending on the brand of your golf cart, there are multiple choices that you can pick from your local golf shops or online golf platforms. For instance, in this list, VEVOR is an excellent example of a standard cart rear seat upgrade. Just like the others here, it's compatible with Yamaha. If you have a different golf cart brand, other kits are compatible with those as well.
Next, we have the custom golf cart seats. These are not the typical rear seats that you can purchase online and install them after. Instead, they are customized pieces that you can do yourself or search for online. There are a lot of shops that offer these customizations, and the prices vary depending on what kind of customization you're looking for.
Both types have their own advantages. You can pick one that's best suited to your needs.
What Should You Look for When Buying a Golf Cart Seat?
Before you purchase one, make sure you consider these:
· Compatibility – Make sure that the cart seat you're buying is compatible with your golf cart. One can easily forgo this detail when not careful enough.
· Quality Materials – Check out the reviews and see if the seat is made from quality materials. Focus on the cushion and frame quality as well. The seating should be comfortable while still being sturdy to outside factors. Lastly, it's best if the frames are resistant to fading and rust.
· Durability – It should also be durable and can pass your required weight capacity. How much weight can it handle? Are the materials used top quality and resistant to harsh weather? These are just things you'd want to consider.
· Price Range – Make sure that you're investing in a good cart rear seat for a reasonable price.
FAQs
1. Can I install the cart seat myself?
Yes, you can install the cart yourself, especially if it comes with a detailed instruction manual. However, if it's too challenging for you, you can surely hire a professional to help you with it.
2. Is it difficult to install?
Depending on the brand and the features it comes with, it may be tricky to install one. Some kits come with multiple bolts and screws, so it can take some time to install if you're not too keen on following the manual to a tee.
3. What cart rear seats should I get?
You can definitely buy any kind of kit as long as it's compatible with your golf cart. You can opt for a customized one or not. Just check out the dimensions, brand details, and overall reviews to know what to look forward to by the time installation comes.