Homebrewing is an exhilarating experience. And one of the most important steps in the beer-making process is fermentation. Choosing a good fermenter is thus an important step in the process of making beer.
Your fermenter has the power to make or break your brew. While a plastic brew bucket can produce excellent alcohol, it lacks features. Conical fermenters, on the other hand, are remarkable in a variety of ways.
They reduce your workload, conserve yeast, improve your brew, and make the process more enjoyable. So the question now is, "Which conical fermenter do I choose?".
List of Top 5 Conical Fermenters Stainless Steel
Getting a stainless steel conical fermenter is one of the easiest ways to increase the quality of your homebrew. If you're new to homebrewing and don't know what craft brewers buy, here are the best options to get in 2023!
1.
VEVOR 14 Gallon Brew Fermenter
This is one of the conical fermenters that provide brewers with a complete package. The fermenter body is made of SUS 304 stainless steel, which is corrosion, alkali, and oxidation resistant. Furthermore, its long-lasting layer assures stability as well as an anti-moisture and odor-free brewing process environment.
The conical bottom helps the trub to lie down gently in a more focused zone, reducing the surface area of your brew in touch with the trub. With a 13.2-gallon capacity, the entire kit contains everything you need from a conical fermenter as well as supplementary components like gaskets and an LCD temperature indicator.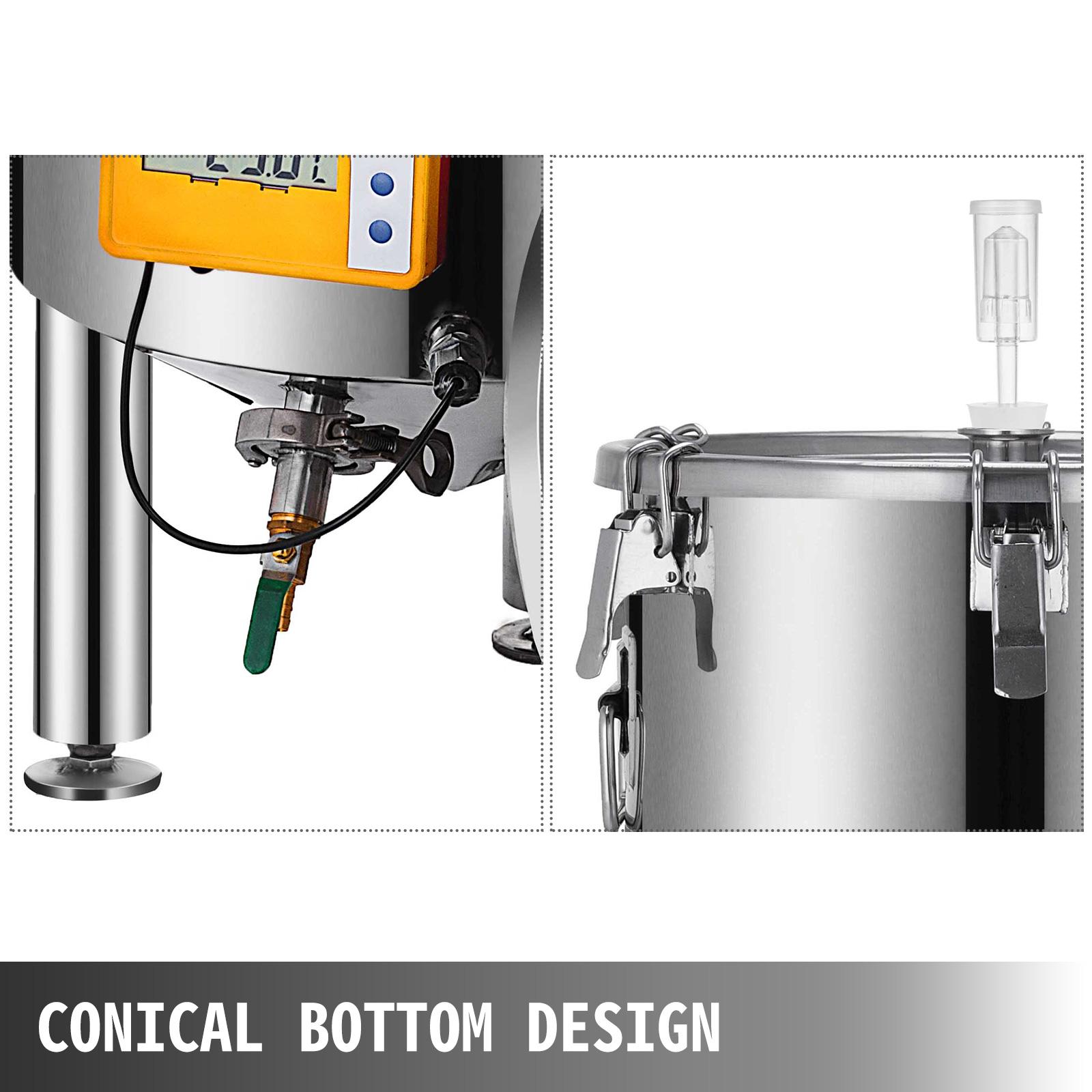 The reinforced lid, changeable sealing ring, and elastic lock provide secure and sanitary storage. When combined with the high-performance sealing structure, you can be confident that your brew is of the finest quality.
Pros:
● Reasonably priced
● Very effective sealing performance
● Temperature gauge for easy monitoring
Cons:
● Only available in one size
Overall, the multifunctional conical fermenter can be used in a variety of industries, including brewing, food, chemical, and other businesses that use fermentation. The thickened 1.2mm tank is one of the components that ensure effective heating, cooling, and heat retention.
2.
Blichmann Fermenator
This fermenter is one of the most well-known and sought-after conical fermenters on the market.
It is made of high-quality stainless steel and has almost every feature you could expect from this type of equipment. It is available in a range of sizes to meet your needs. It also includes a hose and a valve for simple operation.
Its size option clearly outperforms the competition. So, if you want a larger conical fermenter, this one is highly recommended because it is unquestionably one of the best available.
With a sleek, attractive design, the Blichmann Fermenator promises to greatly improve the quality of your beer. Moreover, it comes from one of the most respected home brewing supply manufacturers.
Pros:
● Made by a very respected brand
● Available in many sizes
Cons:
● Very basic design
3.
BrewDemon Conical Fermenter
If you're trying to find a small-batch fermenter that will remove the uncertainty of homebrewing, this is a wonderful little piece of brewing equipment with a lot of bangs for your buck.
It has a unique ventilation system that eliminates the need for an airlock. There is also a changeable flow spigot and a stick-on temperature indicator to help with control and monitoring.
This fermenter is easy to configure and can produce up to 2.5 gallons of your favorite homebrew formula. The pre-hopped process also preserves tank space that would otherwise be taken up by hops.
This is one of the finest options for inexperienced homebrewers to learn about the beer-making process without having to worry too much. It will not disappoint you or change the taste of the completed product in any manner that a non-expert will notice.
Pros:
● Does not require an airlock
Cons:
● Not suitable for larger operations
4.
SS BrewTech Fermenter
This SS Brewtech product is designed to help you to work efficiently. And, in comparison to competitors, the fermenter is quite affordable.
It has a professional appearance and is constructed entirely of food-grade stainless steel. This includes an air-tight cover with an opening for a blow-off valve and piping.
This fermenter can also be stacked with others of its kind. This allows you to make use of limited space by fermenting multiple brew recipes at the same time.
It also features retractable handles that may be used to lift the fermenter when it is loaded. This design was carefully considered such that blow-off valves could still be accessed when multiple fermenters are stacked.
Pros:
● Stackable design
Cons:
● Only available in 7.5-gallon option
5.
Anvil Crucible Conical Fermentor
Many people appreciate this fermenter since it includes all of the essential features of a bucket fermenter in a higher-quality material. A huge 90° elbow bend at the bottom of the cylinder is secured by a Tri-Clamp butterfly valve.
Simply open the valve and pour everything out to clean. There is no need to rinse and then tilt the entire system to empty the substance, which makes a significant difference in terms of convenience.
A ball valve with an angled collection pipe is also located at the bottom. If necessary, this ball valve can be used to gather wort samples throughout fermentation.
Pros:
● Nice grade stainless steel
Cons:
● More expensive than other options
Different Types of Conical Fermenters Stainless Steel
The constructions of stainless steel conical fermenters are generally similar. However, certain stainless-steel fermenters can also serve as a boil kettle, and many come with temperature control coats that allow users to closely watch and regulate the temperature of your fermentation.
How Does A Conical Fermenter Stainless Steel Work?
Most people had to use square or rectangular fermentation containers for a long time. As time passes, in the 1950s, the global economy is rapidly developing, and the size of beer production has also grown.
The production equipment available at the time could not meet the demand for beer. As a result, the conical fermenter arose and has remained the most popular fermenter style for both amateur and professional brewers.
Conical fermenters are cone-shaped vessels with a bottom valve. Yeast and other particles settle to the bottom of the funnel as they fall out of suspension during fermentation. To remove the sediment, simply open the bottom valve.
Instead of the time-consuming procedure of transferring wort from one vessel to another, a single conical fermenter handles everything. It is also simple to fill kegs with the fermenter's valve.
The structure of the conical fermenter is uncomplicated. It features a valve at the bottom that connects to a smaller ball at the bottom. It's always been a two-step, two-vessel procedure.
It lets the hops-laden muck rest at the bottom of one carboy before dumping it into another where just the liquid remains. The only thing left to consider is the quality of your liquid brew.
In most cases, a second port is located higher up on the top of the vessel. This is where you can take beer samples for measurement, tasting, or quality testing.
What Should You Look for When Buying A Conical Fermenter Stainless Steel?
Sure, a stainless steel conical fermenter is fantastic for your brewing business, but will they all provide the same benefits? Different conical fermenters are made with different needs in mind, so pay attention to the factors below before picking one.
● Structure.
In general, the cylindrical portion of the tank has two cooling jackets while the vertebral body portion has one. The conical tank features a 60° cone bottom, which is ideal for yeast recovery.
● Size selection.
An obvious concern is the height of the liquid level in the tank. It has an impact not only on the nature of fermentation wastes but also on the activity and biological metabolism of yeast. The fermentation fluid circulation is too intense if the height of the conical container is too high.
● Tank material.
Originally built of carbon steel, conical tanks are now primarily made of stainless steel. Thermal insulation materials, on the other hand, are often made of polystyrene foam or amide resin.
Aside from the aforementioned factors, it is also essential to think about whether the conical tank's relevant attachments are appropriate. Compressive capacity should be high for high-pressure sections, and tank wall thickness should be improved considerably.
Are Conical Fermenters Stainless Steel Worth It?
If you think you need to improve your beer production and simplify the process, a stainless steel conical fermenter is an excellent investment. It makes beer transfer, yeast harvesting, and cleaning simple. Overall, it will save you a great deal of time and resources in the long term.
FAQ about Conical Fermenters Stainless Steel
1
.
How does heating work in the conical fermenter?
The heating unit is placed at the top of the cone. The thermal movement will keep the temperature fairly constant.
2. Is there a risk of oxygen contamination inside my conical fermenter after dumping the trub?
Though there is always a possibility of oxygen contamination throughout these stages, it is quite minor. As with any fermenter, you should be mindful of oxygen pick-up.
3. Can I bottle directly from my conical fermenter stainless steel?
Yes. However, if you do not have enough carbon dioxide to force the beer out, you have to lift the fermenter further. Simply connect a tube to the sample valve and fill the bottle through it.