Reviews Of Borescope Inspection Camera In 2023 That You Never Knew ExistedHave you ever used a Borescope inspection camera? Well, they are specialized equipment used to magnify and illuminate objects in any narrow area or hard-to-see surfaces. Therefore, you can inspect what is inside the other equipment in real-time. It often contains an eyepiece used to view what is on the narrow surface. The high-quality borescope inspection camera can capture and provide a high-resolution display. The devices can be used to check automotive parts, pipes, gearboxes, engines, aeroscope equipment, and much more.
List Of Top 5 Borescope Inspection Cameras
If you have been struggling to find the best Borescope Inspection Camera, here are our top picks that you didn't know existed. They will provide great service for long to ensure all your inspection practices are perfect.
1. VEVOR Endoscope Borescope Inspection Camera
When choosing a borescope inspection camera, the screen resolution and lens strength should be the first thing you check. Well, the VEVOR Camera Borescope Inspection Camera beats its competitors due to its triple lens capacity that leads to a wider view. Due to this fact, it can easily see through narrow surfaces like pipes and engines to ensure real-time repairs. Also, due to its high-quality lens, it provides clear and sharp images to prevent any kind of confusion. Additionally, it is waterproof and oilproof, therefore, can be used in different places.
Features and Performance
1. Triple lens – The VEVOR Borescope inspection camera has a triple lens that provides more field of view (1-front, 2- sides). IPS screen – Its IPS screen measures 4.5"facilitating crystal clear images and videos that put a focus on the colors. This makes the inspection process much easier.
2. Cable capacity – It features a semi-rigid cable (16.ft) that makes it flexible and rigid enough to be used in tight places.
3. Lighting – It features 8 lights and three brightness adjustment levels to make it easy to see in dark areas.
Brand: VEVOR

Screen Resolution: 854 x 450

Lens resolution: 1920 x 1080

Image rotation: 180° Lens diameter – 88 mmLights:8

Battery capacity: 2860mAh last for 4 to 5 hours
Pros
It comes with a 32 GB TF card for storing captured media..

It comes with extra accessories (hook, magnet, etc) for item retrieval

It can be used for engine inspections, pipe checks, sewer checks, and much more.
2. DEPSTECH Digital Borescope Inspection Camera
Our second top pick is DEPSTECH digital Borescope inspection camera. Just like the remarkable VEVOR Inspection camera, it is also water-resistant. Therefore, you shouldn't fear using it on different surfaces. It can be used to inspect industrial machines, automotive, pipes, household air conditioning, and much more. Features and PerformanceConnectivity: It doesn't require any Wifi or Bluetooth connectivity. The 0.21-inch smaller lens makes it easy to see far-off areas. Lens- It comes with a 4.3" screen that makes sit easy to operate and observe the different narrow materials. Lighting: It comes with 3 adjustable brightness levels to provide clear images. The 5 mm semi-rigid cable makes it easy to access narrow spaces. It comes with 6 adjustable LED lights.
Brand: DEPSTECH

Lens resolution:1080p

Image rotation: 180°

Lights:6

Battery capacity: last for 4 hours
Pros
Its 2nd CMOS chip supports the highest recording frame rate.

It comes with valuable accessories like a hook and magnet to help reach things that have stuck.
3. Teslong 50FT Borescope Inspection Camera
Do you want to inspect a sewer, engine, or some pipes? Then Teslong Borescope inspection camera will help you with the task. Its 4.5" screen makes it ideal for seeing through narrow spaces.
It is water-resistant, and you won't have to worry when fixing some plumbing issues. Furthermore, it has a remarkable video capture resolution of 1080p.
Features And Performance
1. Ultra-long cable – An ideal borescope inspection camera needs to be long enough to go through long narrow spaces. The Teslong 50ft long cable is ideal for the specific task.
2. Camera specifics – It has a dual lens endoscope for the specific task. Therefore, you can be able to capture different angles of the surfaces that you are checking. The side-mounted camera also allows you to capture close range.
3. Memory size – It features a 32 GB microSD memory card that supports JPG images and AVI video recording. It also has a built-in microphone and speaker to record any voices while shooting videos.
Brand – Teslong

Screen Resolution: 854×480 Pixels

Lens resolution: 1920 *1080

Image rotation: 180°

Battery: 2500mAh

Zoom function: 1.3x/1.5x
Pros

It offers images with vivid and saturated colors

It has a 4.5" display screen

It makes it take high-quality, visible images.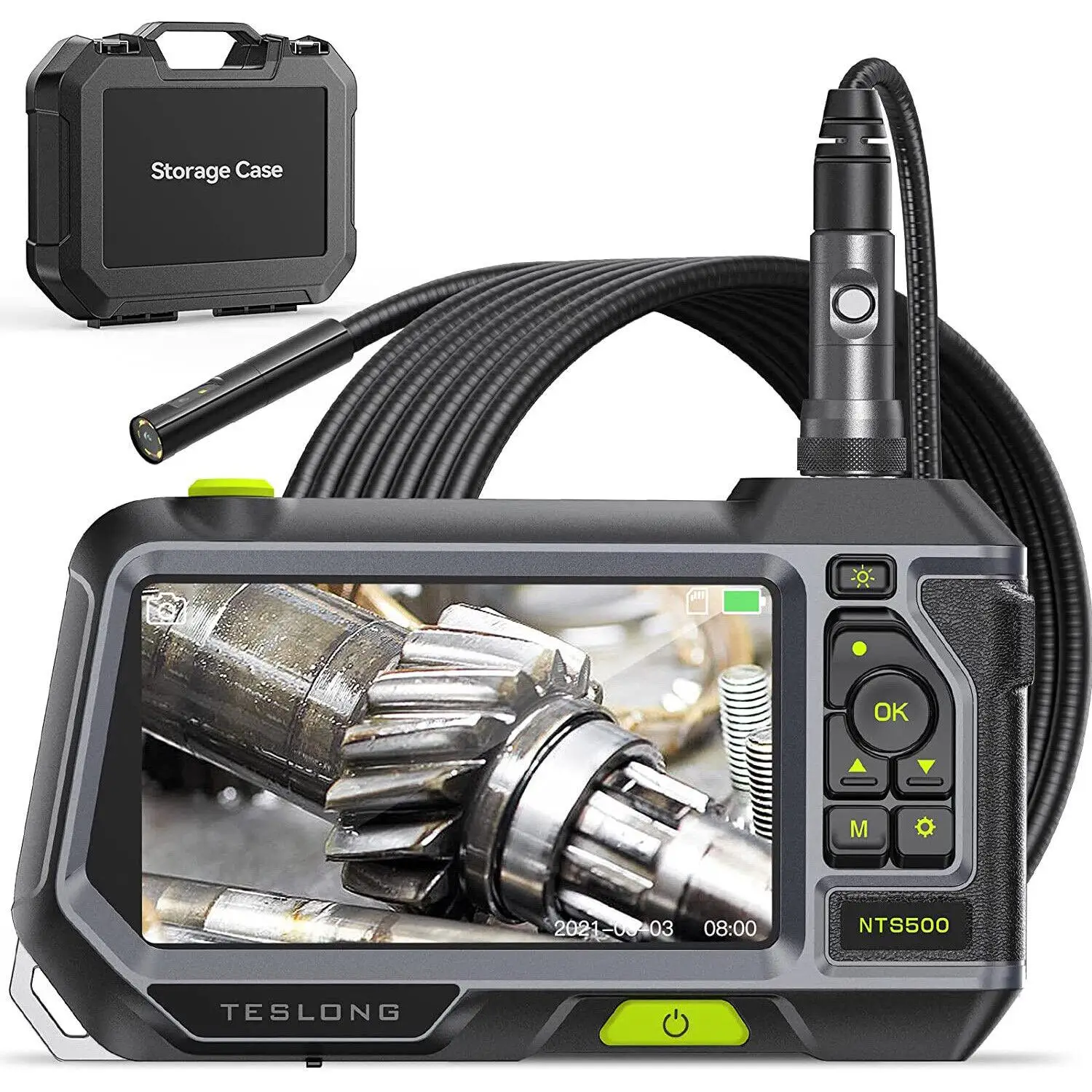 4. Oiiwak Industrial Borescope Inspection Camera
The Oiwwak brand is remarkable, and you can never go wrong with their products. Just like the VEVOR inspection cameras, it features a 4.3″ screen that makes it easy to survey the area.
Its 11.5ft cable makes it easy to reach narrow surfaces. It is perfect for automotive, plumbing, sewer, and some other household repair functions. It has a 1080p video capture resolution that makes it easy to see different areas. Its waterproof nature makes it ideal for all plumbing needs.
Features and performance
1. IPS screen Endoscope – It has an IPS screen endoscope that makes it easy to take pictures and record videos. This also entails an anti-blur feature, better conversion tech, and the provision of ultra-clear pictures.
2. CMOS technology chip – This facilitates clear live 1080p video quality. The 3x zoom capacity makes it easy to notice even smaller details.
Images: It takes high-quality images that make it easier to know the issue and fix it in real-time.
Brand: Oiiwak

Lens resolution: 1080

Image rotation: 180°

Power type: USB
Pros
It provides ultra-wide-angle imagesIt easily facilitates color flipping and brightness conversion

It has a thin display panel for easy visualization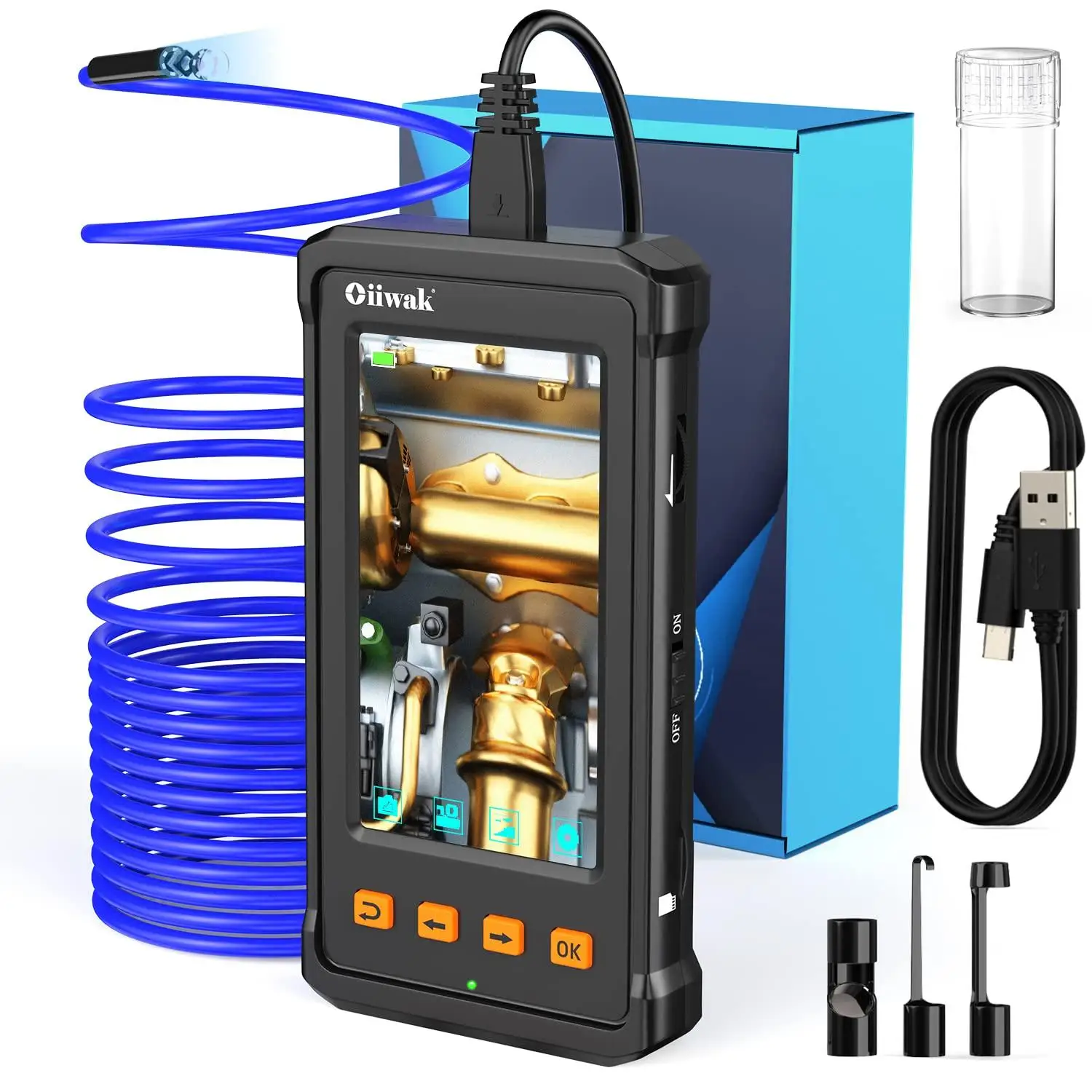 5. Anykit Borescope Inspection Camera
Are you looking for the perfect inspection camera for home and commercial use, then Anykit brand will do the trick for you. It features 6 LED lights that make it easy to illuminate different surfaces. Its 32 GB TF card offers enough storage for the camera data.
Features And Performance
1. Camera size: It has a high-quality resolution to provide the perfect clear images.
2. HD display: It has an HD display that lets you enjoy the live video to see where the issue is on different surfaces.
3. High-quality cables – It has a 16.5 ft semi-rigid cable that makes it ideal to check wide places within a short time.
Pros
It comes with a wide variety of accessories

It provides a high-quality image outputIt can be used to pick stuck items.
Different Types Of Borescope Inspection Cameras
There are different types of unique borescope inspection cameras. These include:
1. Rigid Borescopes – These kinds are non-flexible but optical devices that allow inspectors to access remote areas of an object. They also have high-quality imaging, unique design, and utilize a lens system to relay images. They are mainly used to discover any form of imperfections.
2. Flexible Borescopes – They are flexible as compared to rigid ones. They are best used in the examination of curvy pipes, ducts, and vents. Furthermore, they cover distant areas and greater depths with ultimate detail and accuracy.
3. Fiber scopes – These are another type of borescopes that transmit an image from a flexible tube to a viewer's eyepiece. It can be used in areas where rigid borescopes can't reach. They can easily relay one color or similar colors.
4. Video Borescope – The other type of Borescope Inspection camera is the video borescope. It uses image sensors to relay images to an operator. The charged coupled device relays the image electronically through the control unit. The viewing angle and field of view are often in

What Should You Look For When Buying A Borescope Inspection Camera
There are specific considerations that you should make when buying a borescope inspection cameraCheck size- It is important to check the size of the inspection camera. In some cases, the bigger devices provide sharper images but can't fit in small spaces. However, the smaller ones can each have smaller spaces but may provide low-quality images.
Check the presence of modern illumination technology – It is also crucial to check the kind of illumination offered by the cameras. The best are those that offer fiber-optic illumination.
Check magnifying effect – You definitely would want a camera that offers some great magnifying effects. Therefore, you can see all the details of the place you are checking in real time.
Check the field of view – Another crucial thing to check is the field of view. What is the maximum coverage? It should be able to capture different angles efficiently.
Flexibility and rigidity – It is also crucial to check the flexibility and rigidity of the borescope. This has a huge impact on the camera's reach and the finer details that it can see. Therefore, always check the specifications of whether a rigid or flexible borescope will fit into the space.
Is Borescope Inspection Camera Worth It?
The Borescope inspection cameras are some of the best equipment that you can use to check hard-to-reach spaces. They are ideal for use in checking engines, automotive parts, home surfaces, and other areas. However, you need to check the various specifications so that you can be sure of whether it will help you in the task that you want.
VEVOR Borescope Inspection camera is one of the best that can never let you down with its high capacity features that make it one of the best in the market. Therefore, consider all these to ensure that you get the perfect borescope inspection camera.

FAQ about Borescope Inspection Camera

1. What is the importance of choosing the right diameter and length of the borescope inspection camera? The different lengths and diameters impact the amount of area it can cover. The longer tubes can cover more area than the shorter tubes.
2. What is the use of the borescope inspection cameras?The borescopes are tiny cameras that make them easy to capture unreachable areas. This helps reduce any catastrophic disasters that would have occurred.
3. Is cost a major determinant of the quality of the borescope inspection camera? Well, in most cases, the more pricey inspection cameras tend to have more features than the cheaper ones. However, you still need to check to ensure it can help you in your tasks.