An auger is a powerful and efficient tool for people in tree plantation, construction, and related industries. It is a spiral-shaped digging tool used for digging holes into the ground. The spiral-metal shaft comprises sharp blades towards the end of the device. It rotates to enter the surface of the ground.
The drilled components move along the shaft and exit the hole during the rotation. Also known as power earth drills, augers can be electric or manual. Electric ones are believed to be more efficient and durable than others. Are you also planning to invest in an electric auger? If yes, here's everything you need to know about this versatile machine.
List of Top 5 Electric Auger Post Hole Diggers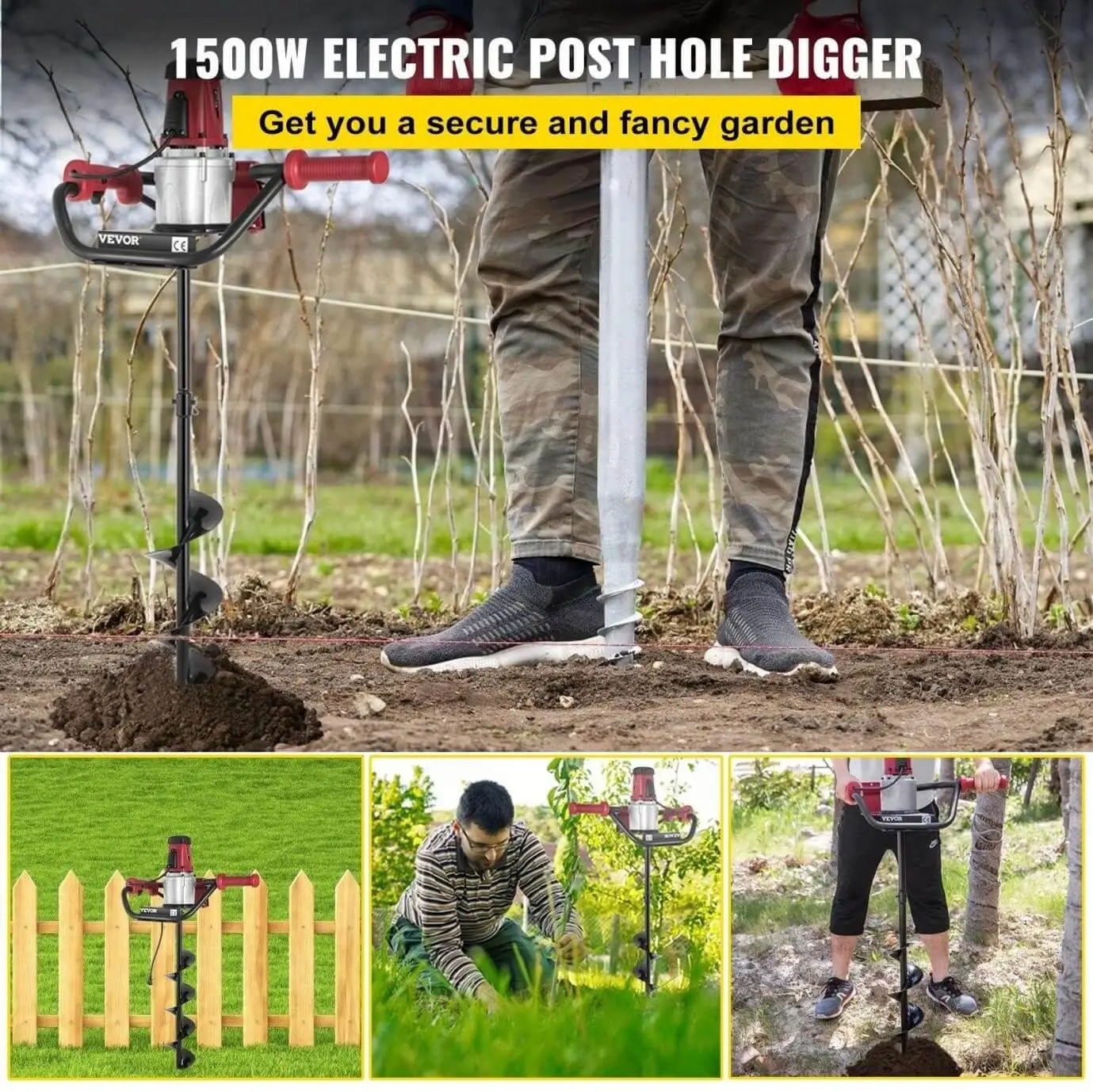 So, what are the top electric auger post hole diggers to root for in 2023? Let us have a look at them:
1. VEVOR Electric Post Hole Digger
The VEVOR 1.6 HP 1500 W electric auger power head has a 6" bit and a 39" drilling depth. It has a rotational speed of 200 RPM and 90 ft-lb torque. This powerful machine is compatible with ice bit or earth auger, enabling multiple digging operations in lesser time.
VEVOR Electric Post Hole Digger is a great multipurpose machine widely used in the mailbox, deck installing, tree planting, and fence digging projects. Moreover, users also appreciate its ergonomic design. The security lock and skid-proof handle offer maximum stability and leverage.
Features and Performance
High-Quality Material: The endurable plastic shell and casting-aluminum engine can handle successive wear and digging assignments. The heavy-duty manganese steel-constructed auger bit and extension bar offers extreme durability to the machine.
Highly Compatible: The 1.6 HP auger engine is perfectly compatible with different auger bits for various earth projects in farms and gardens. It can effectively cover all your digging jobs.
● Brand: VEVOR
● Model: JH-300A
● Material: Plastic, Aluminum, Steel
● Supply Voltage: 110 V/60 HZ
● No-load Speed: 200 rpm
● Torque Capacity: 90 ft-lb
● Overall Dimension: 23.6″ x 15.7″ x 13.4″ / 60 x 40 x 34 cm
Pros
● The superior plastic and cast aluminum can handle repeated impact and drilling.
● This digger comes with a robust 1.5 HP motor
● You can use this digger with an ice bit or an earth bit
● It is a budget-friendly electric digger
● The heavy-duty manganese steel adds to the durability of the digger
2. Hiltex Electric Earth Auger
Hiltex Electric Earth Auger is a heavy-duty 1,200 W machine that is great for planting trees, installing deck posts, fence posts, etc. It can deliver an impressive 90-foot pounds of spin.
Features and Performance
Ergonomic Handle: The ergonomic, anti-vibration, and anti-slip handle offers impeccable leverage with stability.
Safety Lock and Durability: This digger has a safety lock that helps prevent the machine from being accident-triggered. Moreover, the supreme quality carbon steel rod and alloy steel blades enhance the product's durability.
● Brand: Hiltex
● Item Weight: 5.06 pounds
● Product Dimensions: 32.28 x 4.53 x 4.53 inches
● Style: 4" Auger Bit
● Material: Alloy Steel
● Power Source: Electric Powered
Pros
● It can dig holes up to 30 inches deep and 4 inches wide.
● It is an affordable product that offers impressive performance.
3. MXBAOHENG Electric Post Hole Digger
This 220 V post hole digger is great for punching holes in frozen soil, ice, and land. It is a practical and economical machine widely used in geophysical exploration, tree planting, road construction, etc.
Features and Performance
Strong Body: The digger is made from premium alloy and manganese steel.
Maximum Efficiency: To ensure maximum efficiency, the digger rotates at 200 rotations per minute at an impressive speed.
● Brand: MXBAOHENG
● Diameter: 200 mm
● Voltage: 220 V
● Frequency: 50 HZ
● Power: 2,500 W
● No-Load Speed: 0-1850 r/min
Pros
● This machine is suited for different terrains.
● One or more people can operate this digger efficiently.
4. SuperHandy Electric Earth Auger Power Head
It is a lightweight, lithium-ion battery-operated cordless electric post hole digger. It is thoughtfully designed to smoothen the digging process.
Features and Performance
Ergonomic Grip: This digger has an ergonomic silicone handle and a quick safety release feature to enhance the machine's balance.
Versatile: This powerful digger can help accomplish multiple and versatile projects.
● Brand: SuperHandy
● Maximum Speed: 325 RPMs
● Starting/Running Wattage Load: 150 W/100 W
● Item Weight: 29.9 pounds
● Battery: Lithium Ion Battery
Pros
● The LED lighting feature made using the digger in the evening easier
● It comes with a uniquely designed motor
5. DC House Industrial Electric Post Hole Digger
It is an innovative post hole digger that offers numerous features. It is a great machine used for garden cultivation in autumn and spring and ice fishing in winter.
Features and Performance
Brilliant Operator Comfort: The heavy-duty frame assembly and handle reduces vibration. Moreover, the easy-to-grip switch control and finger throttle help keep the speed at your fingertips.
Drills Cleanly and Quickly: Powered with a 102 CC gasoline engine, this digger swiftly drills holes into the ground for shrubs, trees, posts, and poles.
● Brand: DC House
● Type: Air-cooled, 2-stroke engine
● Displacement: 63 CC
● Power: 2.5 KW (3.4 HP) / 8000 r / min
● Fuel Mixture: Gasoline: Oil – 25:1
Pros
● It can drill multiple holes quickly.
● One or two people can operate this digger simultaneously.
So, which is the best electric auger post hole digger? Considering all the above options, VEVOR Electric Auger Post Hole Digger is the best so far. It is a versatile machine that perfectly combines high performance, durability, and cost-effectiveness. The rest of the options are heavy-duty electric diggers that can be ideal for industrial use.
Different Types of Electric Auger Diggers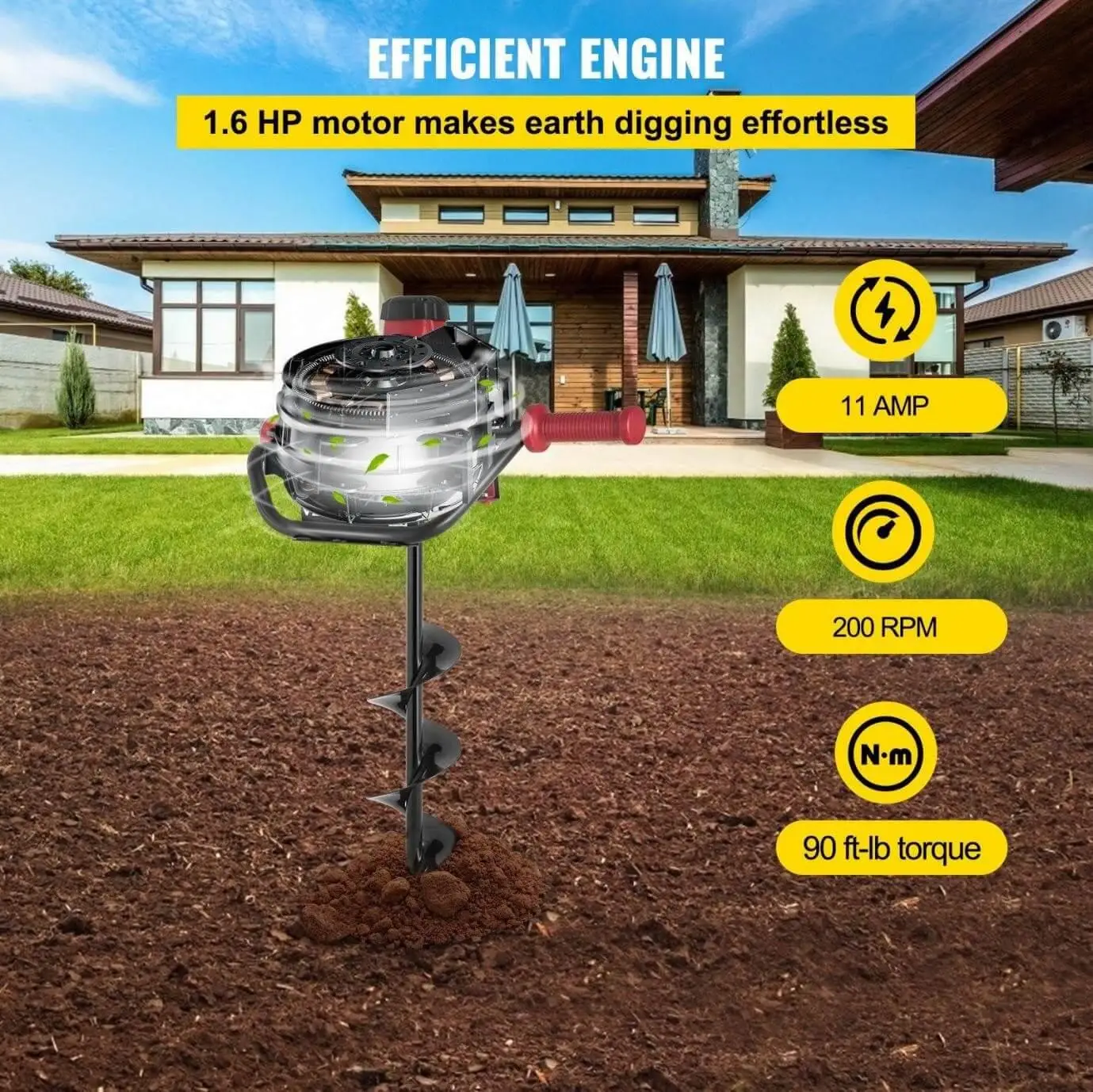 Let's have a look at the different types of electric augers available in 2023:
Ice Augers
As the name suggests, ice augers dig holes into ice surfaces and crush ice. Its blades are specially designed, shaped, and sharpened for cutting solid ice. This tool is widely used in the commercial food manufacturing industry.
Earth Auger
This kind of auger is made with rotating metal rods or pipes and used to dig holes in the ground. As the name suggests, it is engineered to scrape or cut through the soil. Gardeners and farmers use this tool to plant crops.
Grain Auger
A grain auger is used to transport large heaps of grains. It is made with large tubes containing a durable shaft and flighting spiraling. The grain is drawn up, put into the shaft, and expelled from the other end.
Hand Auger
This auger is used in mining, making post holes, unclogging drains, collecting soil samples, etc. It is a useful tool for professionals working in the environment conservation industry.
Garden Auger
It is a lightweight and affordable auger that can dig fence post holes effectively. You can also use it for landscaping and gardening purposes. Besides digging, it also plays a great role in improving plant roots and soil contact.
What Should You Look for When Buying an Electric Auger Post Hole Digger?
Here are the top factors that you should consider when buying an electric auger post hole digger:
Size: The hole sizes you need to dig and the project size you are working on should determine the type of hole digger you need. One-man earth augers are lightweight and are great for digging small holes for landscaping and gardening projects. On the other hand, two-man earth augers need two people for the operation. However, it is a heavier machine with more powerful engines.
Attachments: Ensure you use an electric auger compatible with various attachments and accessories, like the VEVOR electric auger post hole digger. It can help you complete tasks like a fence post and digging tree potting. You can also check for extension shafts to assist you in reaching higher depths with your existing auger bits.
Price: You will find a wide range of electric auger post hole diggers with a wide price range. Going for very expensive ones for routine projects will not be a wise idea. Therefore, you should select an auger that offers great performance at a reasonable price.
Are Electric Auger Post Hole Diggers Worth it?
Electric augers are unbelievably versatile. It can save you from the back-breaking labor of digging holes manually. It is a great industrial tool that can incredibly boost the efficiency of various commercial operations.
It can also work wonders in smaller personal operations like building fences, ice fishing, planting crops, or extracting maple syrup. For instance, VEVOR electric post hole digger has all these features, making electric auger diggers worth an investment.
FAQs About Electric Auger Post Hole Digger
Q. Can you use any auger type in ice?
No. Not every auger is meant to function on ice. You need to buy special ice augers for this purpose. Using any auger here can be unsafe and damage the machine.
Q. Is an auger different from a drill?
Experts say that augers make drilling more convenient and effective than drillers. Augers offer a better drilling depth and uniformity in holes and prevent holes from clogging as well.
Q. How deep can an electric auger drill?
An effective auger can drill as deep as 95 feet. Moreover, you can use an extension rod to dig deeper into the soil.