The VEVOR bar tall table and chairs Set 43 is a five-piece set that has a modern and rustic style. The table's wood adds an antique and timeless appeal to your space. It is incredibly strong and won't wobble thanks to its retro antique wood tone panels and black iron frame. It can be utilized in various restaurants, homes, and other commercial settings.
If you are looking for something unique, classic, and of high quality and you don't want to break the bank, this product is for you. In this article, you would learn more about tall table and chairs and how it fits perfectly for all occasion.
Why Should You Buy tall Table and Chairs?
Top 5 Tall Tables and Chairs
The following are the top five tall tables and chairs to check out.
VEVOR Bar Table and Chairs Set 43″
This is a five-piece table set with 1 table and 4 stools. It comes in dimensions 43.3″ L x 23.6″ W x 35.4″ in height and Chairs Size of 11.8″ L x 11.8″ W x 23.6″ H. This set is a tall table and chairs with a solid iron frame that fits in perfectly and suits all occasions. The VEVOR bar table and chairs are set apart from other products because it is cheaper, it is very strong and durable, and easy to assemble.
Features and Performance
Nice color that blends easily with your home or office interior

Highly resistant to extreme weather conditions

Stable, durable, and space-saving

Has footrests
Pros
It is budget-friendly

It comes with an accessory kit

It is easy to assemble
Anself 3-Piece Bar Table and Chair Set
This is a three-piece set that is very durable and resistant to all weather conditions. It is both suitable indoors and outdoors and gives your home a vintage look. It however doesn't have storage and it lacks cushion on stools which might not sit well with some people, depending on their preferences.
Features and Performance
Suitable for both indoor and outdoor functions

Resistant to extreme weather conditions
Pros
Made of durable, weatherproof acacia

Has a vintage tiki appearance
Winsome Suzanne 3-PC Set Space Saver Kitchen
Winsome Suzanne's three-piece set is notable for its space-saving attributes. Asides from that, it also has drawers for storage and it comes with various finishing to suit your taste. As much as this set is notable for its space-saving qualities, it has a short bar surface which limits the kind of activities that takes place on the table.
Features and Performance
Comes with tires for easy movement

Suitable for both outdoors and indoor functions

Foldable to save space
Pros
Comes with a drop leaf for expansion

Comes with drawers and handles
Recaceik 5 PCS Dining Table Set
This is a five-piece dining set with a sleek appearance. This set has a natural wood exterior which is in sharp contrast with the metal frame. This set is very rugged and durable. It is a great choice if you are looking for something long-lasting with a traditional aura. It is easy to assemble.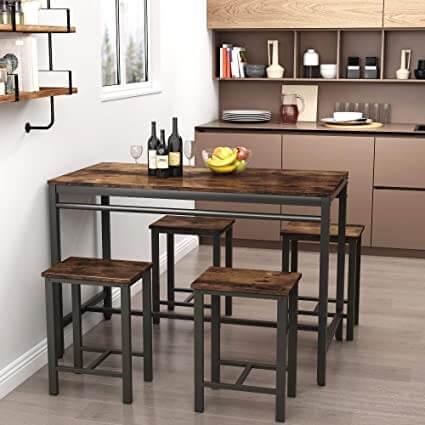 Features and Performance
Very comfortable for family and friends

Neat finishes to give the premium dining area experience
Pros
Durable and firm

Modern and elegant style that suits all environments
Vecelo 3-Piece Dining Set
The Vecelo three-piece dining set is made with grey oak metal and comes with storage shelves. It comes in dimensions 42.1×35.8×23.6 in the table and 12x12x24 in the stool. If space is a huge factor for you, this set features three shelves for storage and the stools can be tucked under the table when not in use.
Features and Performance
Comes with footrests to prevent feet from dangling

Space saving

Extra storage shelves for a more organized workspace
Pros
Comes with storage

It is easy to assemble
What Should you look for when buying the product?
Many things go into consideration before buying a tall table and chairs. For instance, the budget. Nevertheless, there are other factors that still cut across all individual preferences. The following are factors to consider when buying a tall table and chairs:
The height of the bar table and chairs you are planning to get matters a lot in the grand scheme of things. A tall table and chairs make you feel comfortable. People with short legs may prefer that the chairs have footrests where they can rest their feet as opposed to having their feet dangle.
It is safe to be storage conscious. You don't want your bar area to look disorganized and clumsy. Tall table and chairs that come with extra drawers or shelving are a huge plus.
Another factor to consider is the tabletop. How well do you want your bar tabletop to serve you? You do not want to always bend over when garnishing a cocktail. Hence, you should look out for a tabletop tall enough to allow you to garnish cocktails conveniently without bending over. This feature is important if you want your bar table to double as a workspace and also as a place to enjoy your drink.
Tall table and chairs can contribute greatly to the aesthetics of your home. Home designs generally reflect your taste hence, before buying you should put this factor into consideration. A bar table and chair can switch up your home from simple to classic or from traditional to modern depending on your choice.
The durability of a tall table and chairs depends on the function you want them to perform. If you want a bar table and chair that can perform both indoor and outdoor functions, then you have to pay close attention to the material of the bar. This is to ensure that the material can fit into any kind of weather.
Bar tables and chairs mostly come in round, square and rectangular shapes. The shape of your table determines how your home looks and how perfectly it fits into your space. If you have a small space, you should consider the shape of the table that would fit. Rectangular tables however often give off a classic and elegant appearance.
Are the Vevor Bar Table and Chairs Set 43 worth it?
The VEVOR brand is a well-known brand that specializes in the production of durable tools, equipment, and furniture. The brand operates in over 200 countries and has a huge customer base. This brand holds customer satisfaction in high esteem and delivers products at exceptionally low prices.
The Vevor bar table and chairs set 43 is made with the finest of materials that can withstand extreme weather conditions. In addition to this, it adds a modern and classic style to your home and office. It also comes with a footrest so that your feet wouldn't dangle. Getting this product is absolutely worth it especially if you want to get a budget-friendly tall table and chairs.
FAQs for tall table and chairs
1. What is the average height of a bartop table?
Bar top tables are typically 40 to 42 inches high, which places them at hip or waist level. This makes it very comfortable for preparing cocktails and working with your hands.
2. What is the average weight of a stool?
The weight capacity of stools varies from 200 to 500 pounds, depending on the material used.
3. Is it difficult to assemble?
The majority of bar sets sold at large retailers require some tools to assemble them. In order to put the pieces together, you should typically have at least a few screwdrivers on hand. However, the VEVOR bar table and chair set 43 are very easy to assemble. It comes with instructional material to guide you through the process.