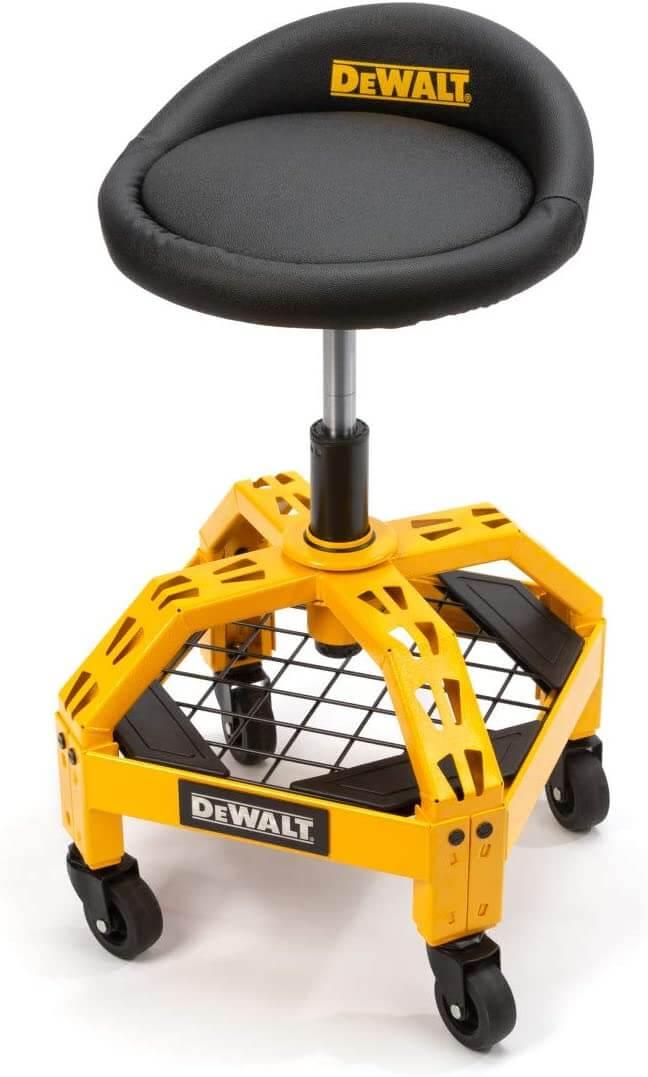 Working at a garage often requires great skill and keen attention to detail. If you're a mechanic, you'll agree that ending the day tired and having met all your client needs is the greatest job satisfaction. The thrill of going back home, taking a shower, and unwinding can only be elevated when you know that all your clients are happy with your job. However, something else will add to your joy – doing all that you're supposed to do with ease. It's a great feeling to be able to get to the nook and cranny without much effort and without straining your neck or back.
Such a taxing job as being a mechanic would require key attention to your physical health so you can perform greatly. This would have you double down to any tool that's curated to enhance your health during work. That's where a rolling garage stool comes in. This is a powerful instrument that you would go all mile to have in your mechanic essentials. Among the many benefits you would reap are forgetting the years-long muscle pain, back and neck aches, and the ability to work for long with ease. If you've been ending the day with muscle pain, then you might want to add this to your shopping list. But before we get to the next step, you might need to get the grips of what a rolling garage stool is. Hang tight!
What are Rolling Garage Stools?
A rolling garage stool is simply a special type of seat that's designed to help you as a mechanic to wrench your car in comfort. This is a type of seat that holds your rear in place, allowing you to be in a comfortable posture even when you're required to work near the ground. The good thing about the seat is that there is something for everyone. Meaning that the seats are designed to address the different types of customer needs without fail. Its wheels also come in handy when you need to move from one point to the other without standing.
The seat comes with different height options to keep you at the perfect height as you fix your car. Besides enhancing your mobility, the seat allows you to move around with your essential tools. It has a sturdy gear tray that can carry a few tools here and there instead of a situation where you'll keep misplacing your screwdrivers or making trips in the garage just to get them. The seat, when chosen well, is also sturdy enough to hold your weight for as long as you'll sit on it.
This is facilitated by its great weight capacity and the fact that the seating surface is padded. If you would need to operate at different heights, that's also taken care of. The seat comes with a pneumatic lever that helps you to switch heights whenever you need it.
What to Consider Before Buying the Best Rolling Garage Stool
Are you wondering what exact features define a good rolling garage stool?
To get ultimate comfort even after working for many hours a day, many factors will come into play, one of them being the quality of the sitting surface. High-end brands like VEVOR have both padded and dome-shaped sitting surfaces to suit clients with different comfort preferences.

This feature is as important as holding you in place without stability issues. Without this feature, your back problems will only worsen. The standard weight capacity is 300 pounds but you can get special seats from brands like VEVOR with a higher weight capacity.
Different brands have different height adjustability that allows you to sit comfortably as you operate on your machines regardless of the height differences. Your height preferences will inform your stool choice. For instance, a stool with a 13 – 15 inch height is suitable for working close to the ground while working at your workshop desk requires a 17 – 21 inch height. While you may get a standard height, getting an adjustable seat is more advisable.
Best 7 Top Picks of Rolling Garage Stools
There's so much information on the internet and it would not be uncommon to go with anything that seems good. But to help you to narrow your search, below are some of the things that greatly come into play when taking out the best rolling garage stool.
1. VEVOR Rolling Garage Stool
The VEVOR rolling garage stool is a 300lbs ergonomic stool that saves the day when you have projects that involve so much bending. The sturdy seat has great weight capacity, hence it's able to serve you for years without ever breaking or losing its sturdiness. Moreover, the more you use this powerful seat the more you'll fall in love with the comfort that its padded surface serves you. Unlike other garage stools, VEVOR has a strong and consistent pneumatic lever that's able to shift heights efficiently and for a long time.
Besides being highly mobile, the VEVOR rolling garage stool has a large, strong, and durable tray that helps you to roll with your tools wherever you want to.VEVOR now gives you a chance to get the stool for just a few dollars. The brand has introduced VEVOR MONTHLYDY PROECIS where you can sign up and after sharing your DIY products, you become viable for $100 coupons. The offer applies to any product from the brand including the VEVOR rolling garage stool.
2. WEN Pneumatic Stool Seat
WEN pneumatic stool is becoming the new mechanics' favorite. It is well known for its sturdiness and ability to adjust to different heights to serve your requirements. The seat's sitting surface isn't just flat like other brands' garage stools. Instead, it is slightly dome-shaped to hold your rear in place for as long as you work. With a weight capacity of 300 pounds and a height range of 15 to 20 inches, this seat will stick around your workshop for years without you ever wanting to throw it away. With all these benefits, the seat doesn't take so much from your pocket.
3. Dewalt Rolling Stool
Dewalt rolling stool ranks in our top three for the plethora of benefits that it comes with. A single glance at the stool will make you want to just sit on it. Speak of a highly mobile, highly durable, very sturdy, and reliable rolling garage stool! Dewalt's stool comes with four magnificent legs that hold your weight in place. Its 300-pound weight capacity is generally what most mechanics would need to easily get their job done. Its hydraulic piston also allows for height adjustments which range from 22.5 to 26.75 inches. If you're wondering, the seat has a steel frame that holds you in place for as long as you need.
4. Pro-Lift Pneumatic Chair
Here is yet another handy product from Pro-Lift. The ergonomic stool is up to the task for DIYers who would love to spend a few hours a day trying out new things. One great feature of the stool is its durable construction, not to mention its great height range of 15 to 20 inches, excellent for working close to the ground. Its steel frame comes with 5 very sturdy 360-degree swivel casters. The stool is also excellent in back support besides offering a large weight capacity of 300lbs.
5. Karrie Swivel Stool
There's so much to Karrie's swivel stool than you might have heard. From great height range, excellent mobility, adjustable weight features, and a sturdy seat that hangs around your workshop for longer than you know, this stool is worthy to rank among the five best stools. One notable feature is its height adjustment. The stool stands tall and has an adjustment range of 22 to 30 inches. With a standard weight capacity of 300 pounds, the stool comes with a quality build that you won't just find out there.
6. Craftsman Rolling Creeper Stool
If you're a DIY enthusiast, you must have come across Craftsman's power tools. The brand's garage stool is yet another excellent product that comes with a sturdy build. Besides its highly durable rollers, the stool provides the ultimate comfort for its padded sitting surface. The seat is up to the task of supporting you at whichever height as it has a height adjustment ranging from 15.5 to 20 inches. You can freely use the stool without stability problems for its 300-pound weight capacity.
7. Grace & Grace Height Adjustable Stool
Grace & Grace has done all it takes to offer enough body support. If you work for hours on end, this stool is all you need. Talk of a padded, comfortable seat that holds you in the right posture for long hours. The stool comes with an incredible height adjustment ranging between 20.8 and 28.7 inches with an excellent weight capacity of 400 pounds. Another plus for this seat is its sturdy, high-quality build that's enough to support such a great weight.
After following through the above 7 reviews, we conclude that the VEVOR rolling garage stool is the best you can have for its excellent features. At an incredibly low price, you can have a stool that has so much to offer including comfort, mobility, and carries along your tools.
Final Thoughts
All you want to bring to your office is a seat that pays attention to the little details that make up a good rolling garage seat and that's what defines VEVOR. Speaking of all the features that come into play like comfort, weight capacity, height adjustability, and mobility, VEVOR takes the day. Even better, the stool is price friendly and involves a hassle-free process to have one.